Uterine fibroids which are also called leiomyomas are the most common benign tumors of the uterus.  They are often found on diagnostic studies of the pelvis and a confident diagnosis can often be made. They can be asymptomatic but can also cause problems such as pain, pressure, vaginal bleeding, infertility, and masses which you or your doctor can feel.  Uterine fibroids can be found in different parts of the uterus.  Those which involve the uterine cavity can be especially problematic as they can cause vaginal bleeding, infertility and miscarriages.
In some cases, your doctor may want a better look at the fibroids.  An MRI exam shows the fibroids, their location and vascular supply with great detail.  This will help your doctor choose a treatment plan that is best for your particular case.
MRI can also provide more detail when a mass is seen next to the uterus on an ultrasound exam and it is not clear whether it's a fibroid or mass coming from the ovary.  In these cases, the MRI can often help as the treatment is different for an ovarian mass.
I also see this test ordered commonly before an interventional radiologist plans an embolization procedure.  In these cases, it is important to see where the fibroids are and whether they have a good vascular supply.  This will help the radiologist in determining whether you are a good candidate and to assess future response to the treatment.
Since the MRI gives a look at your entire pelvis, alternative diagnosis for your symptoms may be found.  Sometimes there may be an ovarian cyst or mass.  Other times, there may be a problem somewhere in your pelvis not related to the uterus and ovaries like the bowel or lymph nodes. Therefore, a pelvic MRI is not just good for looking at fibroids, but at the cause of your pelvic pain.  In all cases, the best approach is to combine your imaging results with all your other clinical information to come up with the best treatment plan.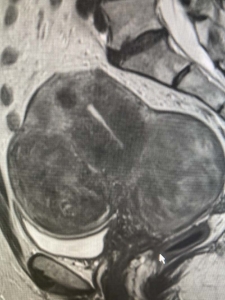 Disclaimer: The content of this website is provided for general informational purposes only and is not intended as, nor should it be considered a substitute for, professional medical advice. Do not use the information on this website for diagnosing or treating any medical or health condition. If you have or suspect you have a medical problem, promptly contact your professional healthcare provider.